Ok, I'm stealing an idea from a few blogs I've been reading out there. Some are doing thankful months, thankful weeks, thankful days, whatever....but since today is one week from Thanksgiving, I thought I would share the 8 things I'm most thankful for...one each day until Thanksgiving next Thursday. These are in no particular order but they are the 8 things I'm most grateful to God for. The first thing I'm very thankful for in my life is Lipscomb.
I think I barely remember at age 5 when I finished Kindergarten at Otter Creek Pre-School and my parents said, "Albert, next year, you'll go to a new school called 'David Lipscomb'. It's a great
school and you'll love it. By the way, we love you more than your two sisters." Ok, so maybe it wasn't exactly stated like that, but they did tell me I was going to the "big school" where my older sister went. I started out there in Pre-First in the fall of 1981 and I've never left the place. I've spent 30 years of my life at David Lipscomb. From grade school to college to grad school to my career. I graduated college in December of 1998 and was hired in the summer of 1999 to teach Middle School. I tell people all the time that Lipscomb is my 2nd home and it's really tr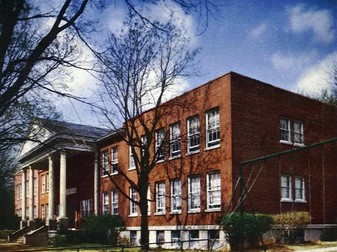 ue. I'm very comfortable here. I feel like I know most of the ins and outs of this place. I know a lot of Lipscomb's history. I know a lot of people here. Many of my good friends have come because of this school. This school brought me my wife. This school played a role in shaping my spiritual life and it continues to do so today. Is Lipscomb perfect? No, but no place is and I would argue that it's about as close as you can get. Sometimes people like to argue and complain about what's wrong with this school and they often forget how much is right about this school. I try to focus on that as much as I can. I feel that God wants me to be here. He has given me this place as a blessing and a place where my faith can shine through. He has also given it to me as a mission and a place where I can evangelize to His children. Basically, I love it here and there's really no place I'd rather be as far as my career goes. So today I'm thanking God for Lipscomb... the school, the institution, the mission, the family, the blessed home away from home. God is good.
I love God, Griffin, my Girl, and my Guys.
Keep runnin'. The PRIZE awaits. (Php. 3:14)
-Albert